PSFCU Senior Citizens Trip to the American Czestochowa
This is the sixth time that the Polish & Slavic Federal Credit Union is organizing a free trip to the Shrine of Our Lady of Czestochowa in Doylestown, Pennsylvania, for our Credit Union's senior citizens from New York and New Jersey. If you want to go with us to the popular American Czestochowa on Labor Day, you should sign up at any of the PSFCU branches on the East Coast.
To go on the trip during the traditional Polish Festival, you must be a member of our Credit Union and be at least 60 years old. You can take one guest with you. Our senior citizens will be travelling to the American Czestochowa this September 2nd in several buses from the following PSFCU branches in New York (McGuinness, Boro Park, Copiague, Maspeth, Ridgewood) and New Jersey (Wallington, Clifton, Linden and Union). One bus will leave from Saint Stanislaus Kostka Church in Greenpoint.
The annual free senior citizens trip to the American Czestochowa is our way of honoring our Credit Union's older members. We realize that due to the distance and problems with transportation and health, for many of them this is often the only way to make a pilgrimage to the Marian Shrine. And it is often the only opportunity to visit the graves of relatives at the Polish cemetery there.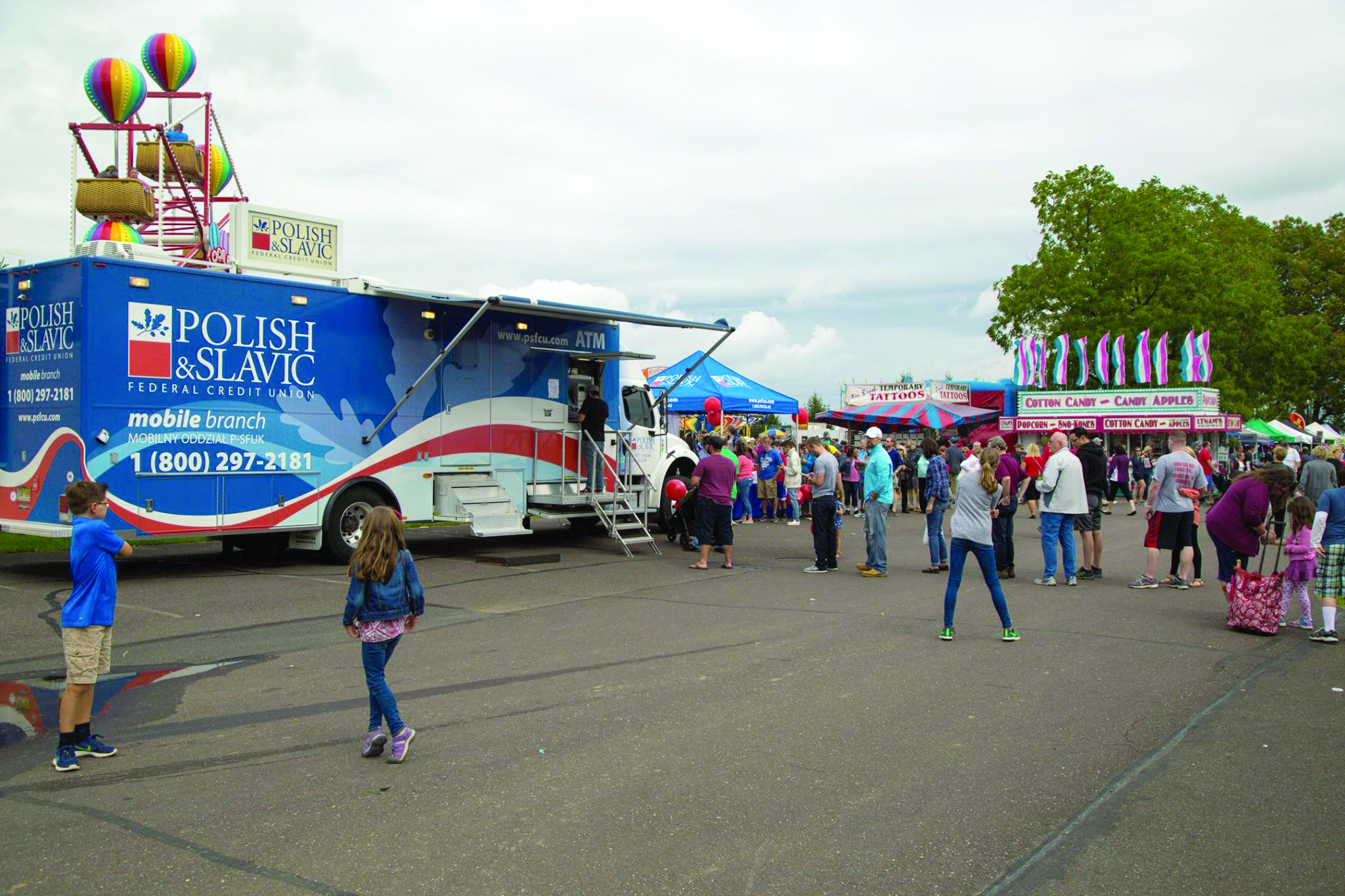 PSFCU Mobile Branch and stand during 2017 Seniors Trip to Amerykanska Czestochowa
The trip will last the whole day and allow the participants to attend Mass as well as pass the time enjoyably and shop at the stands at the annual Polish Festival, which draws tens of thousands of people from all over the East Coast to Doylestown. In addition to providing transportation, the PSFCU is also providing free entrance to the Festival and lunch, and there will be a PSFCU employee on board every bus. We will also have a Mobile Branch on location and our ATM branch will be operating, so our Credit Union members should not have any problems getting cash. As a convenience to guests, this year the organizers have made it possible to pay by credit card at considerably more vendors.
The pilgrimage of senior citizens from the Polish & Slavic Federal Credit Union to the American Czestochowa has become a permanent item in the calendar of Polish ethnic events. The trip is being organized for the sixth time. The fact that almost 900 members of our Credit Union came to Doylestown last year is proof of the scale of the excursion.
Our Credit Union's senior citizens who are interested and eligible for the trip to the American Czestochowa are asked to sign up at PSFCU branches on the East Coast. Please remember that you must be at least 60 years old and you can bring one guest with you.
Just as last year, there will be six buses departing from Greenpoint: five from the McGuinness branch (100 McGuinness Blvd, Brooklyn, NY 11222) and one from Saint Stanislaus Kostka Church (607 Humboldt St, Brooklyn, NY 11222). Two buses each will leave from the PSFCU Boro Park branch (1260 60th St, Brooklyn, NY 11219) and Wallington (375 Paterson Ave, Wallington, NJ 07057). We will be providing one bus each from the branches in Copiague (314 Great Neck, Copiague, NY 11726), Maspeth (66-14 Grand Ave, Maspeth, NY 11378), Ridgewood (69-03 Fresh Pound Rd, Ridgewood, NY 11385), Clifton (990 Clifton Ave, Clifton, NJ 07013), Linden (619 West Edgar Rd, Linden, NJ 07036) and Union (667 Chestnut St, Union, NJ 07083).
Go to main navigation