Let's Help Sick Children
As every year during the holiday season, our Credit Union is organizing the Children's Holiday Smile fundraising drive. Until December 31, every PSFCU Member can make a donation that will be used to help seriously ill children in Poland and to treat Polish-American children in the United States. As of December 12, we have raised $58,567 already.
As part of the fifth edition of the Children's Holiday Smile, we are collecting funds for four institutions that help children who are seriously ill, often with terminal illnesses. We have set up special accounts into which you can transfer funds:
- Caritas of the Archdiocese of Varmia in Olsztyn (PSFCU Account No.: 1369287): an institution recommended by Polish First Lady Agata Kornhauser-Duda.
- The Wroclaw Hospice for Children Foundation in Wroclaw (Account No.: 1369293).
- The Rev. Eugeniusz Dutkiewicz SAC Memorial Hospice in Gdansk (Account No.: 1369290).
- The Children's Smile Foundation of New York (Account No.: 1369281): for the treatment of Polish-American children.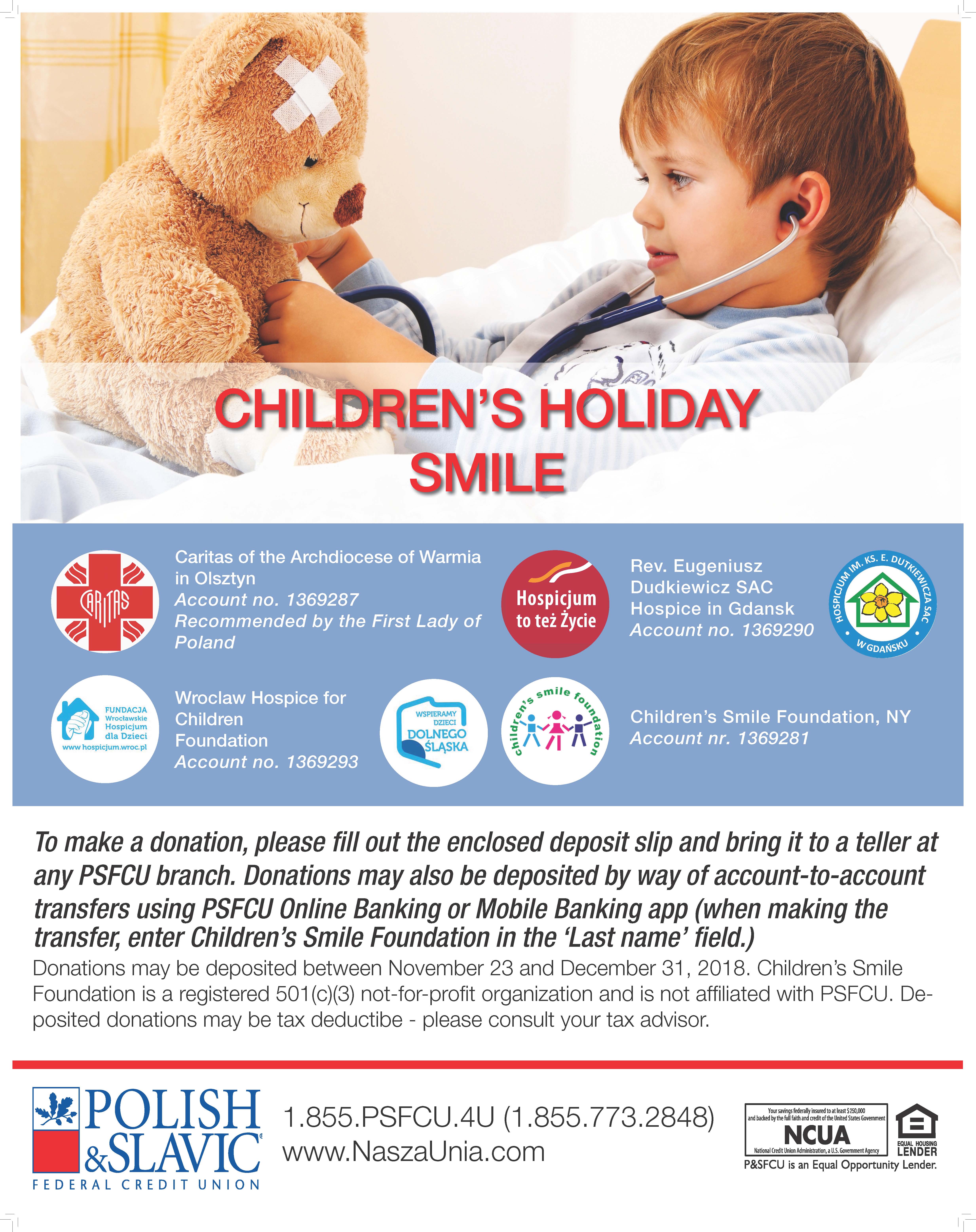 To make a donation, please fill in the coupon available at PSFCU branches or online at www.NaszaUnia.com and leave it with a teller at any of our Credit Union branches. Donations can also be made via fund transfers between accounts using Online Banking or the PSFCU Mobile Banking application. The fundraiser is being held until December 31, 2018.
This year marks the fifth edition of the joint campaign of the Polish & Slavic Federal Credit Union and New York's Children's Smile Foundation. Since the Children's Holiday Smile started in 2014, the Polish community in New York, New Jersey and the Chicago area has raised $500,000 for children's hospices in Poland and needy sick children in the United States. The PSFCU does not charge any fees for collecting the funds, and therefore 100% of the money will be deposited into the designated accounts.
Go to main navigation