PSFCU Rising Star Awarded to Timothy Kutyla
Timothy Kutyla, a 20-year-old gymnast, was awarded the Rising Star of the Polish & Slavic Federal Credit Union Scholarship 2018. This made Timothy the third student and active PSFCU Member, who has received this honorable title.
Timothy (Tymoteusz) is a junior at the University of Minnesota, an athlete on the national team of Poland in gymnastics, and a Member of our Union since childhood having a minor account. Along with the Rising Star title, he also received a check for $5,000. "We are proud that a Member of our Credit Union has already achieved such great successes and perhaps we will see it in the Olympic Games as a representative of Poland. We are happy that we can contribute to helping others fulfill their dreams," said PSFCU CEO, Bogdan Chmielewski, during the award ceremony.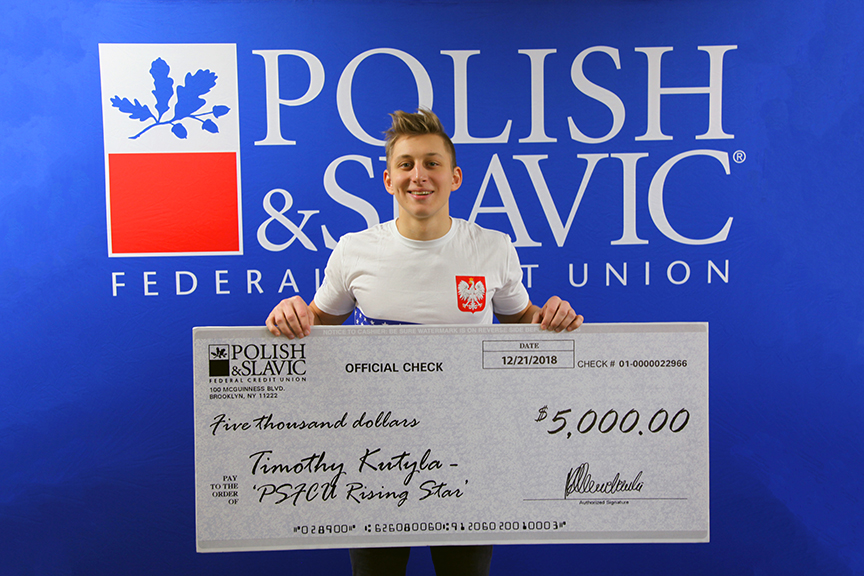 As a junior at the University of Minnesota, Timothy studies business and marketing while practicing gymnastics in university team. Throughout his career thus far, he was already a horizontal bar U.S. junior champion. Since 2018, he has been a member of Poland's national team and hopes to participate in the 2020 Olympics in Tokyo. "I thank the PSFCU for this award, I will always be grateful to have been PSFCU's Rising Star. I treat this as a distinction for the fact that as an American of Polish origin I manage to be a student and athlete while representing the Polish national team in gymnastics," said Kutyla during the ceremony.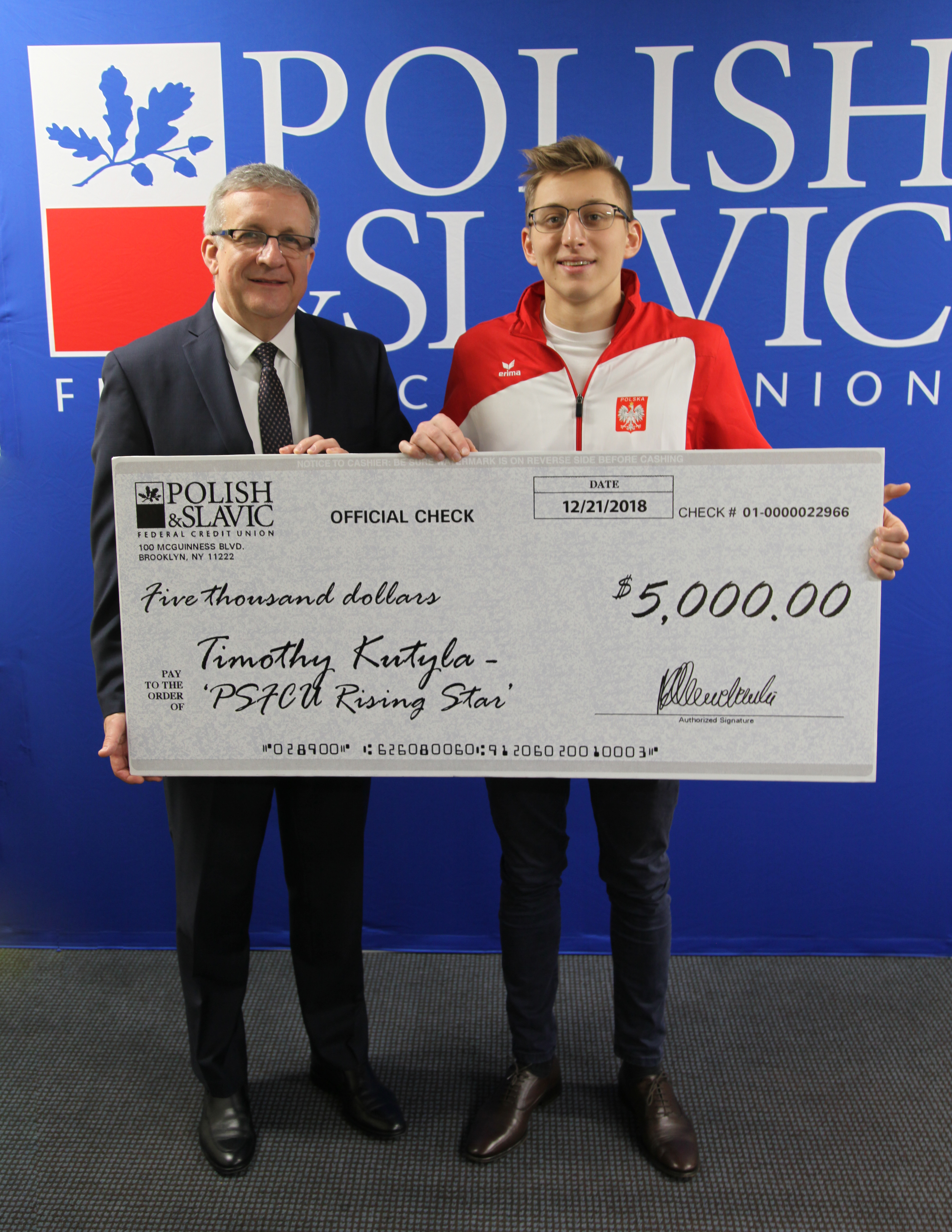 Timothy started practicing gymnastics at the age of three. Today, his daily routine consists of something along these lines: twice a weekk two hours training for 6:30 in the morning, classes at school in the afternoon, and three hours of exercise every day after lunch. His evenings are left for his educational responsibilities and assignments.
Timothy's dream is to graduate and compete at the Olympics. "I hope that soon I will compete at the European championships wearing white and red, Poland's colors, thanks to which I will have the chance to qualify for competing at the Olympics in Tokyo," he said.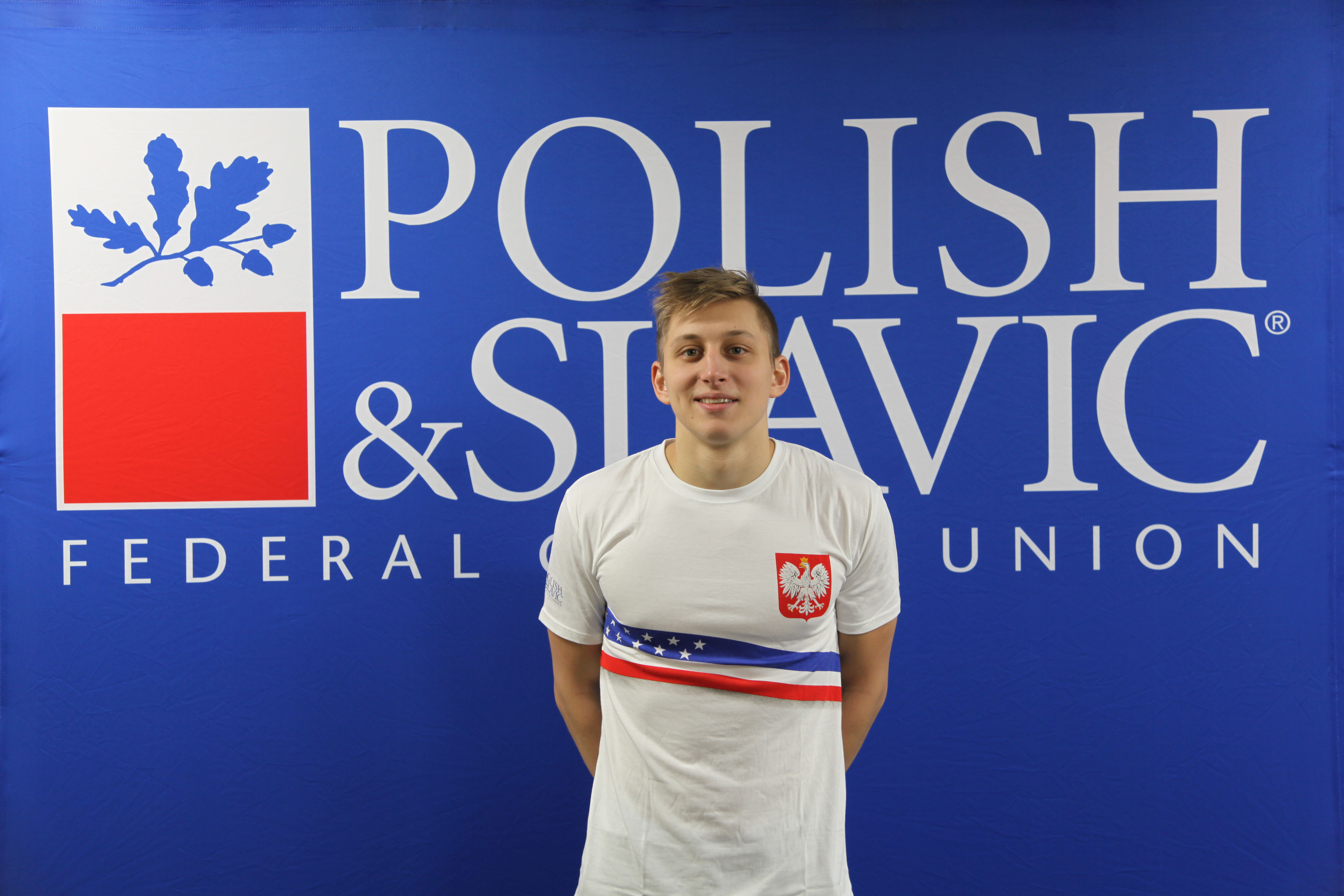 Rising Star award was established in 2014 as part of the PSFCU Scholarship Program in order to reward young members of the Polish & Slavic Federal Credit Union on the basis of the candidate's "special achievements in the fields of science, sport, music, art, leadership or special talent, documented at a national or international level". The previous winners include the following: swimmer, Michael Domagala and 2016 Olympic bronze medalist in fencing, Monika Aksamit.
Go to main navigation