Commemorating World War II Beginning in Times Square
"Reminding the world that 80 years ago Germans invaded Poland starting World War II" was the message displayed in English on the NASDAQ building in New York's Times Square.
The words were paired with the iconic photograph of German soldiers crossing the Polish border and destroying the white and red barrier. The thirty-second-long ad was displayed on the largest screen in the heart of New York for several hours on Sunday, September 1. It was displayed several dozen times: at least three times an hour.
The Polish & Slavic Federal Credit Union sponsored the ad. "On the first day of September, we wanted to provide a reminder of this dramatic event and the tragedy that Poles experienced on the biggest screen in the center of New York City's Time Square. As a credit union, we wanted to contribute to this history lesson so that Americans and people from around the world would know where and when World War II began," said Bogdan Chmielewski, President and CEO of the Polish & Slavic Federal Credit Union.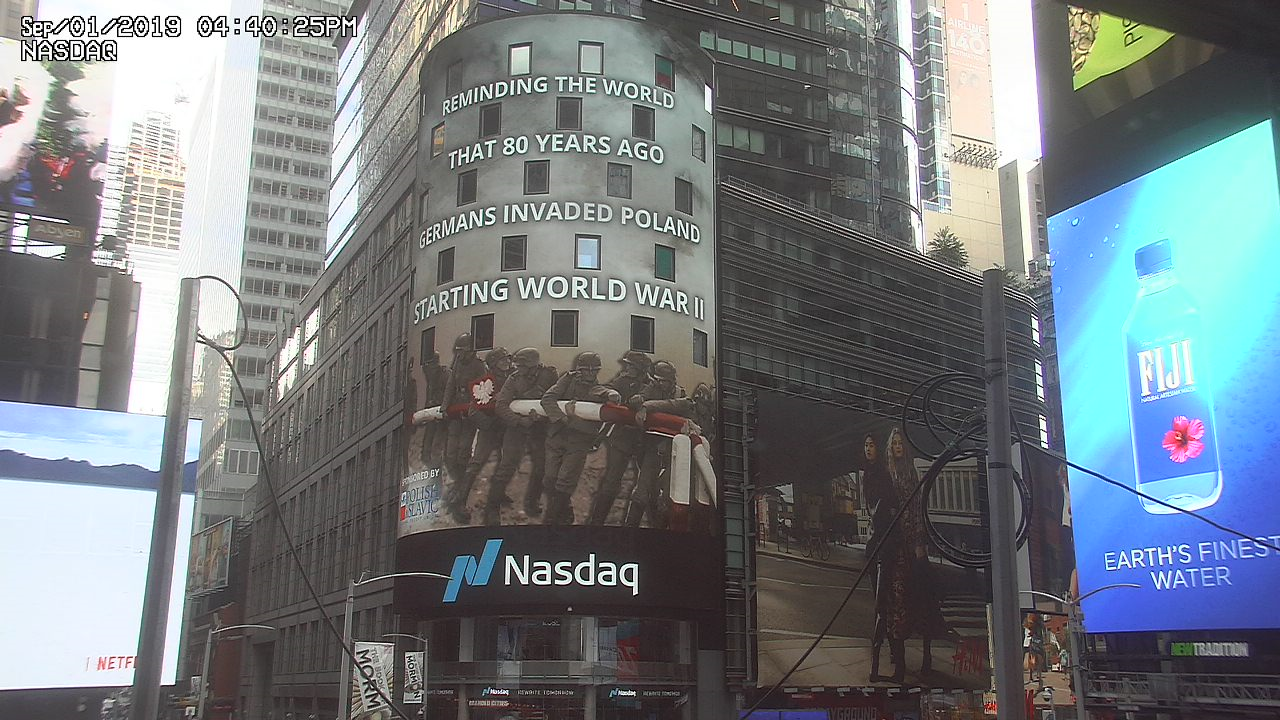 The ad was very popular among the visitors to Times Square. Many individuals took pictures which they shared in social media. A few Americans who passed through Times Square shared their opinions. One passerby said, "I think it's a great idea. There isn't much education about the history of World War II in our schools." Another mentioned, "You need to know the story to learn from it and not make the same mistakes again."
This is the second Polish & Slavic Federal Credit Union initiative of this kind. On Sunday, November 11, 2018, marking the 100th year of Poland regaining its independence, the PSFCU sponsored an ad showing the waving Polish flag with the following text: "100th Anniversary of Poland's Restoration to Independence". It was showcased several times throughout the day on the NASDAQ building, which is located in New York City's Times Square, referred to by many as "The Crossroads of the World".
Go to main navigation