Let's Help the Children Together!
For the eighth time, the Polish & Slavic Federal Credit Union together with the New York-based Children's Smile Foundation invites you to take part in the "Children's Holiday Smile" charity drive. The goal is to raise funds to help underprivileged Polish children in the United States and selected hospices for children in Poland.
The Children's Smile Foundation has opened four separate accounts at our Credit Union, to which we ask you to make donations:
Divine Providence Hospice of Orionine Fathers in Wolomin – account no. 1459338
Swietlikowo Silesian Hospice for Children Foundation in Tychy - account no. 1459341
Salvatorian Hospice Association, John Paul II Hospice in Bielsko Biala - account no. 1459344
Children's Smile Foundation, NYC - account no. 1459329
The "Children's Holiday Smile" campaign began on November 26 and will last through December 31, 2021. We will be grateful for any size donation. Christmas is the best time for help and gifts for underprivileged and sick children. We are convinced that thanks to your generosity, we will once again bring a Christmas smile to many children's faces.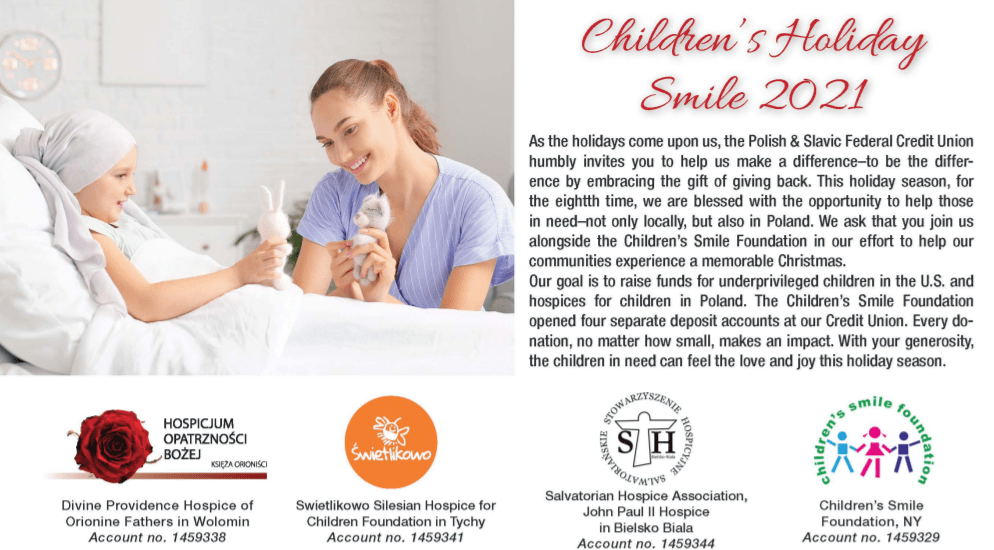 Donate online
To make a deposit, please fill out a special coupon at one of the 21 branches of the Polish & Slavic Federal Credit Union and bring it to the cashier. Deposits can also be made as transfers between accounts using PSFCU Online Banking or the Mobile Banking application (in this case, please enter 'CSF' in the name field and then the appropriate account number).
The Polish & Slavic Federal Credit Union has been organizing the "Children's Christmas Smile" campaign since 2014. In the course of the previous seven editions, PSFCU members have collected a total of over $834,000, which were sent to 16 hospices in Poland, a hospice in Vilnius and the New York's Children's Smile Foundation. Details of this year's campaign can be found in 21 branches of our Credit Union, on our social media platforms and at http://www.psfcu.com.
Go to main navigation