Promotions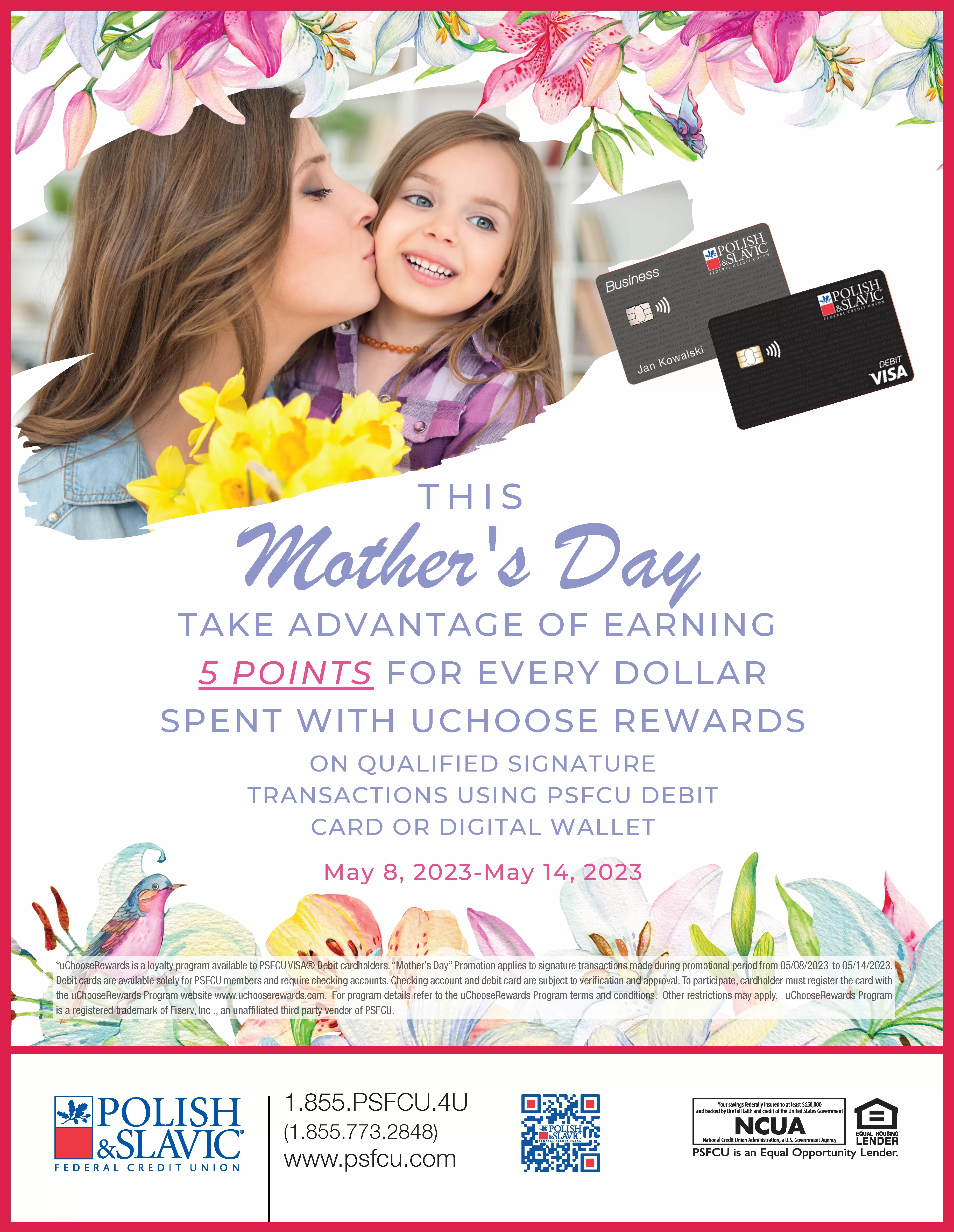 Mother's Day
Take advatage of of uChoose Rewards
Earn 5 points for ever dollar you spent

May 8-May 14, 2023
*uChooseRewards is a loyalty program available to PSFCU VISA® Debit cardholders. "Mother's Day" Promotion applies to signature transactions made during promotional period from 05/08/2023 to 05/14/2023. Debit cards are available solely for PSFCU members and require checking accounts. Checking account and debit card are subject to verification and approval. To participate, cardholder must register the card with the uChooseRewards Program website www.uchooserewards.com. For program details refer to the uChooseRewards Program terms and conditions. Other restrictions may apply. uChooseRewards Program is a registered trademark of Fiserv, Inc ., an unaffiliated third party vendor of PSFCU.
---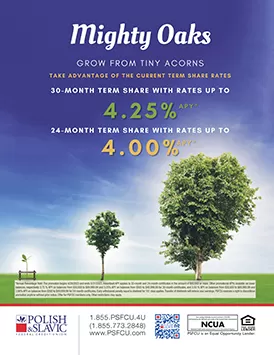 Mighty Oaks - grow from tiny acorns
Take advatage of the current term share rates
30-Month Term Share with Rates up to 4.25% APY*

24-Month Term Share with Rates up to 4.00% APY*
*Annual Percentage Yield. The promotion begins 4/28/2023 and ends 5/31/2023. Advertised APY applies to 30-month and 24-month certificates in the amount of $90,000 or more. Other promotional APYs available on lower balances, respectively 3.75 % APY on balances from $50,000 to $89,999.99 and 3.25% APY on balances from $500 to $49,999.99 for 30-month certificates, and 3.50 % APY on balances from $50,000 to $89,999.99 and 3.00% APY on balances from $500 to $49,999.99 for 24-month certifcates. Early withdrawal penalty equal to dividend for 181 days applies. Transfer of dividends will reduce your earnings. PSFCU reserves a right to discontinue promotion anytime without prior notice. Offer for PSFCU members only. Other restrictions may apply.
---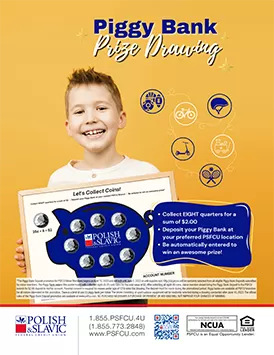 Piggy Bank - Prize Drawing
Collect Eight coins 25¢ for a sum of $2.00

Deposit your Piggy Bank at your preferred PSFCU location

Be automaticly entered to win and awsome prize!
*The Piggy Bank Deposit promotion for PSFCU Minor Members begins on April 15, 2023 and will last until June 5, 2023 or until supplies last. Fifty (50) prizes will be randomly selected from all eligible Piggy Bank Deposits submitted by minor members. The Piggy Bank means this poster board with collected eight (8) 25 cent coins for the total value of $2. After collecting all eight (8) coins, minor member should bring the Piggy Bank Deposit to the PSFCU branch for $2.00 deposit to his/her account. Parental consent is required for minors under age of 13 to enter the drawing. The deposit must be made during the promotional period. Piggy banks are available at PSFCU branches for all minors interested in this promotion. There is a limit of one (1) piggy bank per minor.
The prizes consisting of sport/outdoor equipment will be randomly selected during a drawing conducted after June 10, 2023. The official rules of the Piggy Bank Deposit promotion are available at www.psfcu.com.
NO PURCHASE NECESSARY. A PURCHASE OR PAYMENT OF ANY KIND WILL NOT IMPROVE YOUR CHANCES OF WINNING.
---
It's never too early to start saving!
Open a PSFCU Minor Savings Account and get an extra $50.
Promotion is valid from April 15 until June 5, 2023. Membership restrictions apply to open a Minor Account. Minimum balance of $1O required to open the account. Offer open to any person who currently does not have a PSFCU Minor Account nor had a PSFCU Minor Account within the past 12 months. One bonus of $50 per person applies. The bonus deposit will be available for withdrawal after the period of 1 year, unless exceptional circumstances occur. Bonus deposit is subject to IRS reporting. Other restrictions apply.
---
Go to main navigation